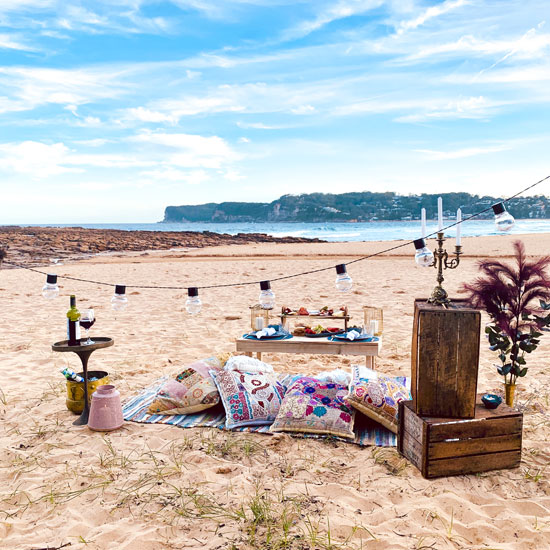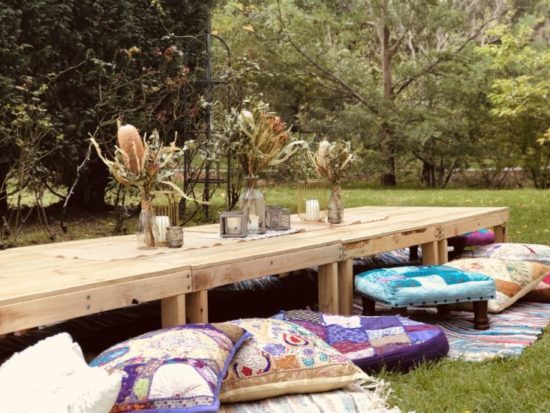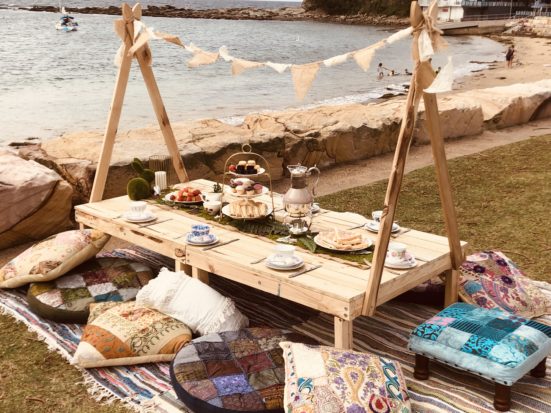 Popup Picnics
Are you looking for that memorable date night or group picnic that is sure to have your friends talking about it forever…? Our Boho styled picnics are sure to give that everlasting memory.
Surprise your guest to a Boho styled picnic that has been set up to meet your requests. Picture yourself walking into a dream setting of your choice for you and your guest/s, think beautiful beachfront, cliff tops, a beautiful garden setting under the shade of a tree and not next to the kitchen or bathrooms in a crowded restaurant.
We will setup and pack down your picnic in your ideal location, leaving you nothing to do but sit back, relax and share that special moment with your guest/s.
Couples Picnic                                          from $250.00
Date night has never looked as good or easy as one of our all-inclusive picnics. We provide a beautiful grazing board with a selection of food to tantalize your taste buds, some bubbles on ice and so much more.
Or
Perhaps you would like to make it super special and upgrade it to our romance/proposal package including French Champagne, premium grazing board to include seafood, a take home Floral arrangement and some chocolate covered strawberries.
Inclusions
2-hour seating time (3 hours for upgraded package)
Floor Rugs
Low lying picnic table
Cushions
Table Settings (placemat, crockery, cutlery and glassware)
Mood lighting candles and festoon lights,
Personalised welcome sign
Iced drink tub with choice of sparkling, white or red wine and sparkling or still water
Grazing board for 2 (assorted cheese's, cured meats, antipasto, dips, crackers, crusty bread, nuts and fruit)
Group Picnics                                               from $250 (minimum 6 guests)
We create a beautiful setting for all your friends and family to mingle and celebrate! Perfect for hen's day, baby shower, birthdays or family and friends gathering.
Standard price doesn't include grazing table, you are welcome to provide your own food or to make things easier we can provide a beautiful grazing platter (cheeses, cured meats, dips, antipasto items, fruits and nuts) for all of your guests to enjoy.
Inclusions
Full setup and pack down within 25km radius of 2251
3-hour seating time
Floor Rugs
Low lying pallet tables
Cushions and ottomans
Table Settings (placemat, crockery, cutlery and glassware)
Simple Table Styling (fresh flowers additional)
Ice tub for BYO drinks and drink dispensers
Kids Picnics                                from $150 (minimum 6 guests)          
Let us help create the Mad Hatters tea party or simply styled for the perfect kid's fairy picnic party
We would love to hear about your upcoming event.
Every event is as unique as the person planning it – that's why Memory Lane Weddings & Events
take the time to understand exactly what you require from your special occasion.